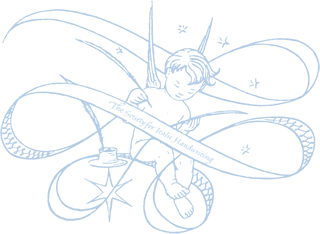 The Society for Italic Handwriting is a Registered Charity (number 287889R), and was founded in 1952 by Alfred Fairbank, a most notable British calligrapher, & Joseph Compton, a Director of Education in London.
Its aim is to spread the practice of the Italic script. It achieves this by publishing a quarterly magazine called Writing Matters, which contains up to date information on pens, paper, writing equipment and other matters relating to the study and practice of this beautiful hand.
Membership is open to anyone who has an interest in good handwriting, an interest for one's own self-improvement in handwriting, for teachers and for those who enjoy the historical aspects of writing and calligraphy.
A Simple Guide to Italic Handwriting by member Nancy Winters is available from the Society at £6.50 including P&P. Members' price is £5.
Above Right: The Society's logo was drawn by Miss Anna Hornby, the Society's first Secretary, and originally appeared in Issue No. 9 of The Bulletin of the Society for Italic Handwriting, Winter 1956-7. It appears here in slightly modified form.