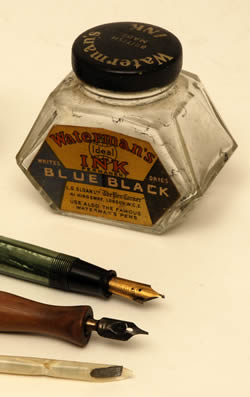 Membership of The Society for Italic Handwriting is open to all who have an interest in good handwriting, an interest for one's own self-improvement in handwriting, as well as those who teach and for those who enjoy the historical aspects of writing and calligraphy.
Members receive a copy of The Society's quarterly publication, Writing Matters.
Subscription Rates
Subscriptions are renewable annually. The current subscription rates are as follows:
Email: £15 or US $25 (these members will receive PDF journals by email)
Print: £20 or US $40 (these members will receive printed journals by post)
All members will be provided with a printed copy of the Christmas edition.
Subscribe!
To subscribe to The Society for Italic Handwriting, simply download, print and post the membership form (PDF), together with a cheque (cheque payment only please) for the correct amount, to:
Nicholas Caulkin, Secretary, SIH, 5 Butlers Close, Butlers Road, Handsworth Wood, Birmingham B20 2PF, UK
Membership Enquiries
If you have any enquiries about how to become a member or about your existing membership, please email the Secretary, Nicholas Caulkin: secretary@italic-handwriting.org or write to the address above.